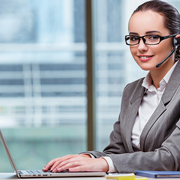 It is a well-known fact that establishing a multi-channel call center in-house can be expensive, time-consuming, and a daunting task. Setting up an in-house call center requires multiple investments in terms of equipment, facilities, human resources, technologies, etc. So, what is the best way to reduce these investment costs? It is outsourcing call center services to an experienced service provider.
We understand the number of outsourcing service providers in the market is huge and the task of choosing one service provider is a daunting task. Selecting one service provider among thousands can be time-consuming and a cumbersome task for clients. So how does one zero-down on one service provider? To make things easy, we have listed down several points which need to be considered while choosing a call center outsourcing vendor.
Top 10 Points to Evaluate a Call Center Outsourcing Vendor
We understand how important it is to provide your clients with the best customer service. This is possible by hiring a skilled team of call center executives with great communication skills. We understand how difficult it is to find the right outsourcing partner for your call center needs. Here are some of the factors that need to be considered while choosing the right call center outsourcing vendor -

1. Specific Industry Knowledge
This is one of the most important factors you need to consider while selecting a call center outsourcing partner. The vendor needs to have a thorough knowledge about your industry which helps in quickly addressing the issues you have a provide the best customer service to your clients.

2. Quality Assurance
You need to ensure that the services provided by the outsourcing vendor are of the best quality and completely error-free. When you hire a call center outsourcing vendor, they will be the ones who are representing your company while interacting with your clients hence the services and communication skills must be of the best quality at all times.

3. Access to Technologies
Staying updated in the fast-paced market can be helpful and can go a long way in your organization's growth. Ensure that you hire an outsourcing vendor who leverages the latest and up-to-date call center technologies, software, hardware, equipment, etc.

4. Detailed Reporting Capabilities
It is important that your outsourced call center vendor has the required skills and bandwidth to provide you with detailed reports of the work being carried out. The reports will help your organization to get the daily metrics and graphs which will determine the effectiveness of your campaigns.

5. Cost-effectiveness
This is one of the main factors why organizations choose to outsource their call center operations to an experienced service provider. You need to ensure that the services provided by your partner are cost-effective but not at the cost of quality.

6. Staff Training and Development
When choosing a call center outsourcing vendor, ensure that they are willing to provide their staff with regular training and development sessions. This will keep the staff updated with the latest tools and technologies, trends, and techniques, and keep them motivated to do better in the future.

7. Global Presence
Ensure that the call center outsourcing vendor you choose has a global presence and has worked with clients from different parts of the world and interacted with people from different backgrounds. The global experience and resources can add value to the services provided by your vendor.

8. References and Previous Clients
Research a bit about the outsourcing vendors previous clients. References can be the best source of information to determine if the call center service provider is the right choice for your organization or not.

9. Strategic Alliances
Most of the major outsourcing vendors have several strategic alliances and it is important that you understand how these alliances will be helpful to your business. The alliances may include testing companies, marketing firms, methodology consultants, disaster recovery companies, etc.

10. Transition Process Methodology
It is important that you review the outsourcing vendor's transition methodology whether you are outsourcing customer service or tech support. You would not want any kind of bumps during the transition process and should be a smooth and seamless process.